Linda Lu's paws drape over the edge of the couch. They're soft things, strong and big enough to palm a tennis ball. Her tongue hangs a half-inch out of her half-open mouth, and her eyes laze in a uniquely feline way. She's docile when she's relaxed, a soundless, majestic creature clothed in gray and mottled with black spots. It's only when she moves that the claws come out.
When they do, there's no denying Linda Lu's wildness. She uses them to grip and grab and climb. Wade Tellesch is immune to any anxiety those claws might inspire. He calls her Lu for short. Her blue eyes, he says, remind him of his older sister's. He cradles Lu in his arms with fearless, almost childlike affection. Occasionally he plants a kiss on her cheek. Lu doesn't seem to mind.
Tellesch is a lanky man with a graying black ponytail and a hopscotch manner of speaking. He bought Lu and her male companion G-O (short for Great One) in September 2016. And he's transformed his half-acre lot in the woods outside Coram into a sanctum for his cats. A two-story enclosure towers out of the snow in his backyard, replete with boards and platforms for climbing.
For tough winters like this one, Tellesch built a small secondary enclosure off one wall of his house. A tunnel, punched through siding and insulation, allows the cats direct passage into the house. Among the wind chimes and chairs festooning his front porch is a sign broadcasting his passion for these cats. He bought it at Rockin Rudy's during a trip to Missoula. It reads "Bobcat Crossing."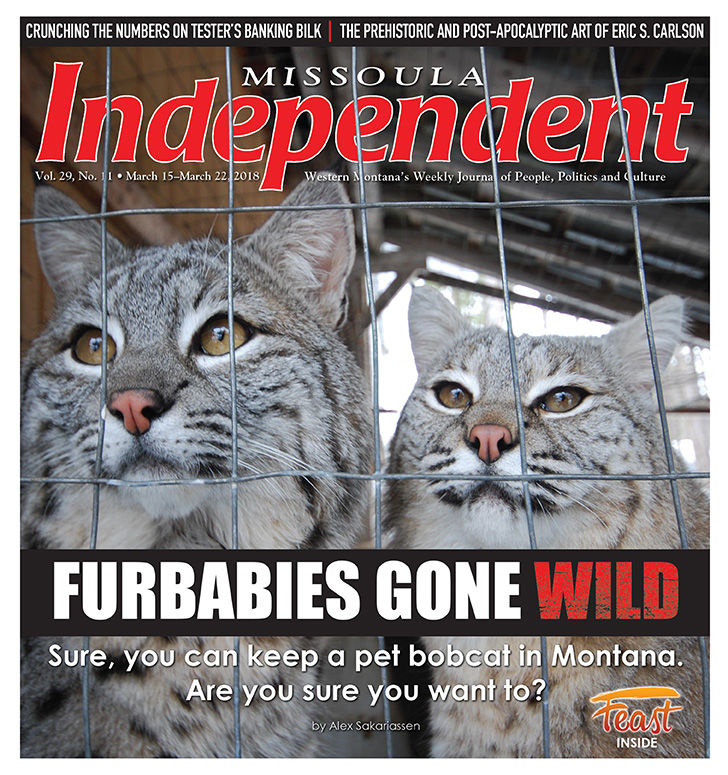 "I've never had an animal that was so smart," Tellesch says. "They opened up my microwave, opened up my refrigerator, my regular house doors. They use the toilet to pee if you let them."
Last fall, Tellesch, 59, became the latest addition to a small but colorful industry in Montana. Montana Fish, Wildlife and Parks approved his application for a fur farm license in October, enabling him to sell any kittens Lu and G-O may produce. The only objection to his application came from Glacier National Park, which feared that Tellesch's bobcats could be released into the park, posing a risk to public safety. In response, FWP stipulated that all Tellesch Fur Farm bobcats must be ear-tagged.
There are currently just over a dozen licensed fur farms statewide. Under state law, these license holders can breed bobcats and lynx for commercial purposes, and must be able to prove that their animals came from domestic stock, not the wild. Some rear the cats to sell as pets. Others sell bobcat pelts on the international fur market, which has attracted sporadic controversy over the years and, at times, vandalism by animal rights activists.
For Tellesch, entry into the world of state-approved breeders was largely a form of insurance against government officials mistaking his bobcats' offspring for kittens taken from the wild and confiscating them. Lu and G-O reached sexual maturity just this year. They haven't mated yet, Tellesch says, at least as far as he knows. "I don't know what happens out in the cage during the day."
When he purchased these two, the price was $1,700 per cat. By now, he says, the value of a kitten may have gone up to $2,000, though he's pretty sure he would sell one for as low as $1,800. The average bobcat litter is three kittens, and bobcats can breed up to twice a year. Tellesch says he has no specific plans to breed Lu and G-O. But if he does wind up with kittens, he'll put them up for sale.
"I will put ads out to try to get rid of them," Tellesch says. "I'm not going to be forceful, because if it happens it happens."
---
In the early hours of March 7, 2014, a team of masked vandals snuck onto the Fraser Fur Farm outside Ronan and destroyed breeding records kept on the farm's bobcat cages. Had it not been for floodlights and guard dogs, they may also have succeeded in freeing the cats.
Subsequent news stories in the Lake County Leader and Valley Journal pinned the crime on animal rights activists, citing claims circulated by Operation Bite Back and the Animal Liberation Front. It was the third time in five years the Fraser Fur Farm had been the target of such activity. The Lake County Sheriff's Office characterized the attack as domestic terrorism.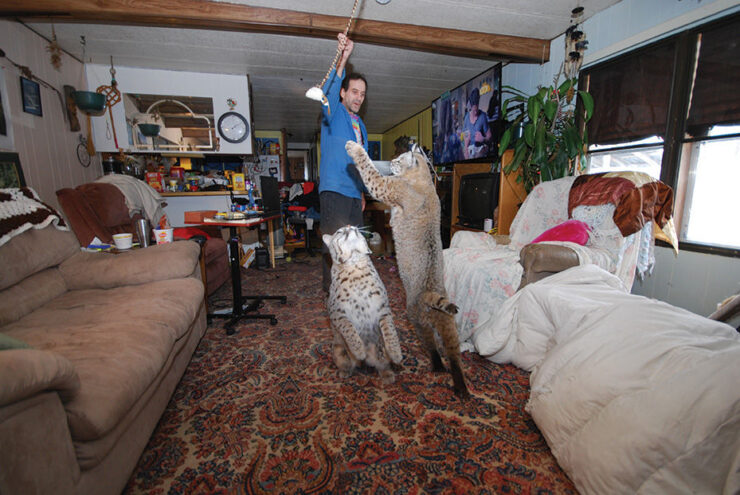 Six months later, in September 2014, controversy swirled around another Montana bobcat operation. Larry Schultz, a bobcat breeder of 32 years' experience in northwest North Dakota, filed an application with FWP to relocate his farm to Fergus County northeast of Lewistown. The expansion of Bakken oil development had resulted in deafening truck traffic near his facility. The disturbance grew so extreme, he told the Indy at the time, that his bobcats had begun killing their kittens. Montana, he hoped, could provide a more tranquil setting.
Schultz's application for a Montana fur farm license generated 21,185 comments, all but 20 of them in opposition. The critics hailed from all over the globe and every state in the union, and represented the viewpoints not just of individuals, but of the Humane Society and People for the Ethical Treatment of Animals. Included in the comments submitted to FWP was a petition, signed by 900 people, tied to a web link titled "Cats are not Crops."
The primary source of contention was Schultz's practice of raising bobcats for their pelts. Schultz was quoted by High Country News in 2014 saying he kept roughly 130 cats, and regularly sold the skins he harvested to Canadian auction houses, where they could fetch up to $1,100 a piece.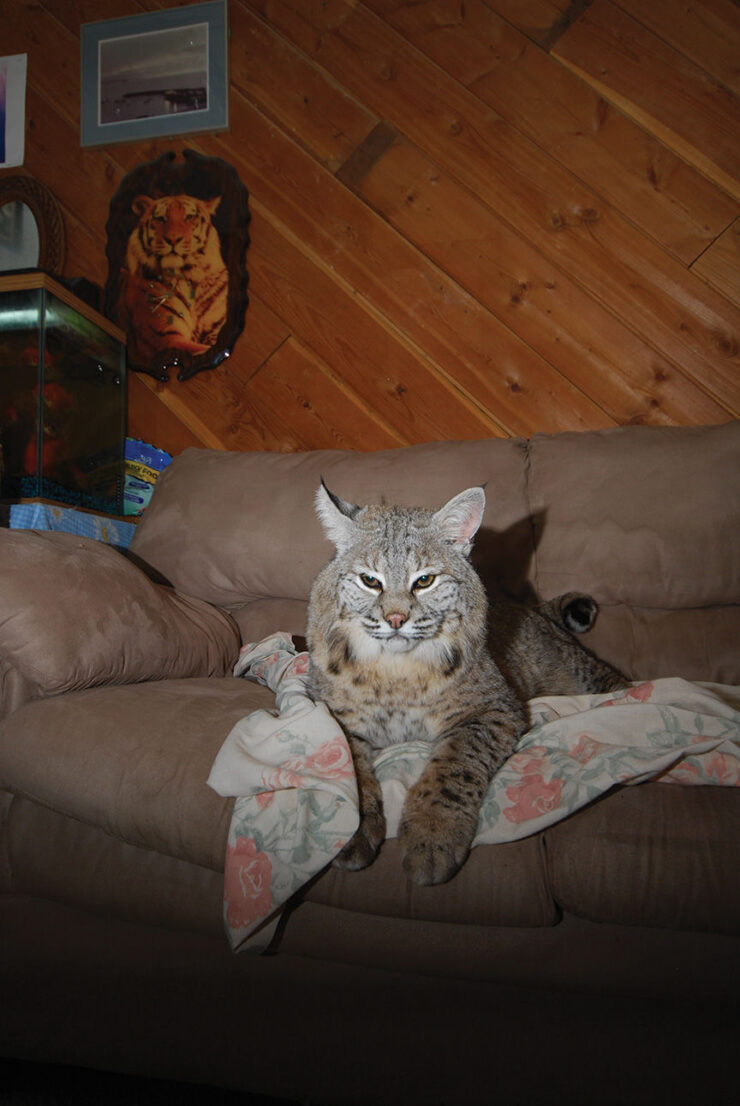 Other fur farm applications have generated similar concerns, usually in the form of public comments. But, as FWP has expressed repeatedly in approving licenses, fur farming is legal. It's also the only way that people seeking a bobcat pet can get their hands on one.Anja Heister, an animal rights activist in Missoula, decries fur farming as a "horrorshow" and compares it to factory farms, where "cattle and pigs and chickens are being tortured until they are killed." She condemns keeping wild animals as pets, too, but on that note she's more empathetic. It's easy to see young creatures as cute and cuddly, and Heister understands that people can be drawn to owning one.
"There's no doubt that we feel emotionally connected, and it's a wonderful feeling. But what about the bobcat?" she says. "The environment of a bobcat is so complex that a life in captivity can never make up for that."
Keeping bobcats as pets is thinly regulated in Montana. All that's required is that the owner purchase the bobcat from a state-licensed breeder. Cities may adopt their own laws stipulating what animals are not allowed to be kept as pets (Missoula, for example, considers bobcats, even domesticated ones, to be wild animals, which are illegal to keep in city limits). They're not as uncommon a companion as you might expect. Nor, it seems, do they cause much of a stir.
Jeff Darrah says he can't recall a single incident involving a pet bobcat in his five years as supervisor at Missoula City-County Animal Control. People may see them around town occasionally, but usually in vehicles. Darrah's never seen one out for a casual stroll. Perhaps that has something to do with their value, he says, or that their owners are particularly protective. "For us, they're really a non-issue. We haven't dealt with any problems, calls or complaints at all regarding them."
Darrah's experience with bobcats was far richer during his 26 years as a game warden with FWP, 14 of them as the head warden in the Missoula area. He remembers once responding to a call in Ravalli County, where a bobcat had been reported hanging out in a homeowner's garage.
"I knew that just didn't sound right," Darrah says. "When I showed up, it basically walked over and started going in between my legs like a housecat. I was like, 'This is not a wild bobcat.'"
Odd as it may seem to keep a bobcat as a pet, Karen Green says the attraction can be immediate. She and her husband met their bobcat, Tazzy, on a Sunday afternoon about 19 years ago. He was a kitten then, just a few weeks old, and the couple was drawn in by what Green calls the "warm and fuzzy." They took him home to Lolo that very day, not thinking past those three magic words.
"Eighteen years later, he was still in our lives, and he was gorgeous," Green says. "He was the epitome of warm and fuzzy, which drew us in, and which I don't want to draw in other people, because it's a life-changing process full of many challenges."
Within two years, the Greens had moved Tazzy from the house to a shaded enclosure outside, for the bobcat's comfort and happiness more than anything, Green says. Something in the bobcats' DNA seems to demand proximity to the natural environment. Tazzy, who died last year, was willful and independent, and selective about which humans he was willing to tolerate. If anyone smelled of cigarettes, Green recalls, he'd "hiss and snarl and want them gone." Vacations became a symphony of planning, requiring someone Tazzy was comfortable with to visit the house and take care of him. Still, Green says, he was a lovely creature, and got along well with their two labs and their Yorkie.
"I guess I wouldn't trade it," she adds, "but it was a journey."
---
As Lu climbs into his lap, purring like a freight train, Wade Tellesch sifts through his past to determine where his bobcat craze started. It takes him a beat to remember the guy's name. Scriber? Scriver? Yeah, Bob Scriver. It's a familiar enough name to anyone who knows Montana art, particularly art produced in Browning, on the Blackfeet Indian Reservation.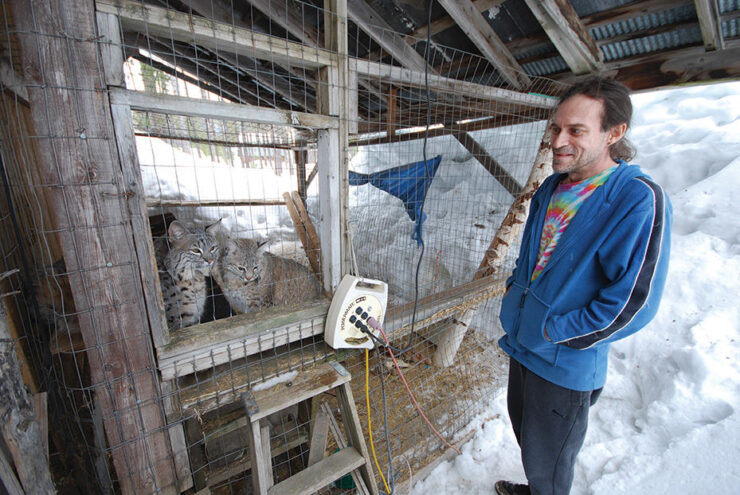 "He was the very first one I ever seen with a bobcat when I was growing up," Tellesch says.
Scriver, who died in 1999, is a legend in the state's sculpting world. Peek into any number of museums and galleries in the West and you'll see the bronze work that earned him an induction into the Cowboy Artists of America in 1967. His statue of Meriwether Lewis and William Clark is on display at the Lewis and Clark Interpretive Center in Great Falls. He sculpted a portrait statue of famed Montana painter Charles M. Russell for the Charlie Russell Museum. Scriver was also a taxidermist. He operated a taxidermy studio and wildlife museum in Browning, and many of the mounts he displayed there are now housed at the Rocky Mountain Elk Foundation headquarters in Missoula. One of his companions in that studio was a male bobcat he kept as a pet — the same bobcat Tellesch recalls seeing as a kid.
Over the years, Tellesch ran across other big-cat pets. He saw a bobcat on a leash at a summer event in Cut Bank. He tells an animated tale from his childhood of a bar owner in Columbia Falls who kept a pet mountain lion. In 1998, after moving to Coram, Tellesch decided his turn had come. He purchased an 8-week-old female kitten from a Montana breeder. She fit "from here to here," he says, pointing from the butt of his palm to a spot just short of his middle fingertip. Her eyes hadn't even opened yet. He named her Precious.
"You're petrified at first, because it's a wild animal," Tellesch says. "And then you're bottle-feeding them, and all of a sudden them little claws reach out to you — it's unreal. You can feel them wrap around your hand and wrap around that bottle, grabbing it so tight. That's when you get your best feeling. After that, they just start loving you."
For the next 19 years, Tellesch and Precious went everywhere together. He took her to bars like Packers Roost, just outside Coram, where she would cozy up to the most fragrant person in the room. If anyone was playing pool, Tellesch says, she'd join in, jumping on the table and batting the balls. "I used to bring Precious to every New Year's Eve party I ever went to, because I was a partyer," Tellesch says. "Every bar here, they'd let Precious in. … She was sitting in my truck one day and a guy, probably 6-foot-7, walked by with a great big cowboy hat on. She reached out the window and knocked his cowboy hat off because he was standing there talking. You talk about a look on that guy's face."
Tellesch was heartbroken when Precious died two years ago. Bobcats make great pets, he says, so long as you respect them and set boundaries. If they have a bad moment — scratching at furniture or displaying aggression — his approach has been to step aside and let it happen. Sure, they might destroy stuff, but what animal doesn't? Tellesch once had a cocker spaniel that tore up the brand new upholstery in his truck.
As passionate as he is, Tellesch concedes there are challenges. Bobcats can live up to 30 years in captivity. At roughly a year and a half old, G-O is about 35 pounds, but he could grow to 50, Tellesch says. They require a raw meat diet, about a pound a day in G-O's and Lu's case. If you freak out or try too hard to control them, the claws come out, and Tellesch refuses to declaw his cats. It makes for a scratch-prone lifestyle, especially considering Lu's vertical leap (based on the distance from Tellesch's floor to the top of this reporter's head, it's at least 5-feet, 7-inches). You've got to want to like the animal, Tellesch says. Even when you do, outsiders don't always get it.
"I used to have somebody come up with Precious all the time [and say], 'You're the worst person, having a bobcat,'" he recalls. "I says, 'No, I rescued this bobcat. She has a life better than I can guarantee probably 90 percent of the other bobcats out there.'"
---
If she had it to do all over again, Lindsey Bessette figures she could raise a bobcat right. She's just not sure she'd want to.
Bessette made her first foray into bobcat ownership roughly a decade ago. She and her boyfriend — now husband — had been in the market for a Maine Coon, one of the largest domestic cat breeds. But when they discovered that someone was breeding and selling bobcats just a short drive from their Lolo home, she called and put down a deposit for a kitten. The subsequent learning curve was steep, with regular calls to the breeder for advice on how to handle the new pet.
In 2010, Bessette applied for and received a state fur farm license under her maiden name, Sweeney. She estimates she and her husband sold four litters of kittens over the next few years. It would have been five, she says, but the mother killed one litter. There was a lot to like about raising bobcats, and they always had more deposits than kittens. The most challenging aspect, she says, was finding buyers who were prepared for the large and lengthy responsibility of owning one.
"Most people go wrong with diet," Bessette says. "And if they don't go wrong with diet, they go wrong with care. And that is not an animal that you want to go wrong with ever, at all. They can start to turn on you very quickly, and if they're not fed properly, they start to get aggressive."
If Tellesch seems rhapsodic about living with bobcats, Bessette, who no longer raises or owns bobcats, is the pragmatic counterweight. She doesn't doubt that good homes and promising owners exist. She is skeptical about the odds that every kitten will wind up with one. These aren't poodles or labs or bunnies, she warns. Even if people are prepared to take in such a demanding and long-lived pet, there's no guarantee that they'll be able to find help if and when they need it.
"Ask yourself, 'Can I take this on, and am I going to be able to find a vet that's willing to work on them for the next 20 to 30 years?'" Bessette says. "Because the answer is probably no." Also, she adds, ask yourself if you get along with your neighbors, because they may take issue with a bobcat living next door.
Part of her concern is that while Montana fur farms are regulated and routinely inspected by FWP, bobcat ownership comes with no such oversight. Bessette feels strongly that bobcat owners should be required by law to declaw and spay or neuter their pets, in the interest of public safety.
"In Montana, you don't have to have a license to own one as a pet," she says. "You don't have to pass any classes to own one as a pet. You don't have to have a permit. There's nothing you have to do to own one as a pet. Is that not alarming?"
Green shares Bessette's belief that bobcat ownership should be subject to more regulation. When she noticed visitors being taken with Tazzy's warmth and fuzziness, she quickly shared the reality of life with a bobcat: a "total commitment of time, energy and patience." She'd prefer to see pet buyers in Montana undergo some sort of instructional training, if only to make sure they comprehend the life-changing nature of their decision before they walk out the door with a bobcat kitten.
Asked if she and her husband ever considered getting rid of Tazzy, Green says no. It's been a year since he passed away, and she still chokes up talking about him.
"I guess you fall in love with them," she says. "He was just a sweetheart. And I kind of felt guilty for having him in this situation, even though we gave him as good a situation as anybody else that would have had him. You'd have to see a picture of him to know about the magnetic power he had. Chris still can't really talk about him."
Tellesch keeps an envelope of photos documenting Precious' life. He's eager to share it, just as he's eager to defend the thrill of sharing life with what is, in nearly every respect, a wild animal. There are photos of Precious as a kitten, an unsteady-looking bundle of fur. And there are photos of her as an adult, regal and imposing. As Lu and G-O slink about his living room, pawing at toy white mice and rubbing their cheeks on every surface, Tellesch takes a minute to ponder the most common question he's been asked about his bobcats over the years: "How do I get one?"