Fifty years ago, the number of black students at the University of Montana could be counted on two hands. The environment was foreign to them, as were the textbooks, which included little about black history.
"It was like we didn't even exist," one of the first African-American women to graduate from UM, Thamani Akbar, recalled to the Montana Kaimin in 2013.
So Akbar and her peers made themselves visible. They established a black student union, with Akbar as the first president, and lobbied UM president Robert Panzer to create a black studies program that, as Akbar told the Kaimin, could "sensitize white students" and prepare them for a world that wasn't nearly as white as their isolated mountain town. In the spring of 1968, just after Martin Luther King Jr. was assassinated, the country's third black studies program was born.
Fifty years later, current Black Student Union President Meshayla Cox sits at a table in the Branch Center, a new community space in the University Center for underrepresented students, and thinks about how her predecessor's experience at UM compelled Akbar to activism. Being in Montana, at this campus, has helped Cox come into her own identity, too. "It almost pushes you to," she says.
Cox, from southern California, says her passion was ignited in an African-American studies course taught by Tobin Miller Shearer, the program's director. "It's an interesting thing to be like, 'Yeah, some white man taught me about black studies and now I'm the head of the Black Student Union because of it,'" Cox says.
But that's the sort of possibility that arises from having one of the longest traditions of black scholarship in a state with fewer African Americans than any other.
"There's no way to be in this program and not be an activist," Cox says. "Because, to me, there's so much information that people are unaware of — that I was unaware of — that I feel like people need to know."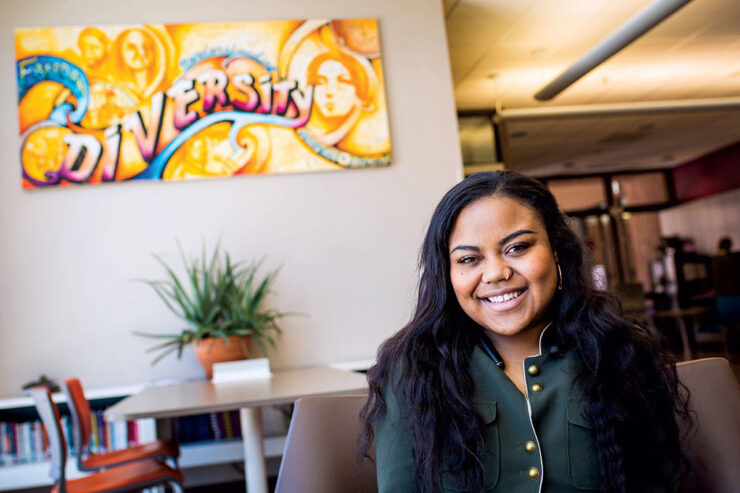 In 2016, only 95 of UM's 10,770 undergraduates identified as black or African American. If she had stayed in California, Cox says, she would likely have spent more time with people "who already get it," or are people of color themselves. Here, she became her roommate's first black friend. The experience has shaped how she thinks about the work required to upend America's culture of white supremacy.
"We need our non-people-of-color, our allies, to understand. They won't know it on the same level that we know prejudice, that we know discrimination, but to understand it, to call it out, to be educated about those experiences will change the fight against social injustices in a profound way," Cox says.
That's a big part of the reason Cox is organizing UM's first Black Solidarity Summit. Held in conjunction with a week of events commemorating the 50th anniversary of UM's black studies program and black student union, the conference will draw members of black student unions from across the northwest. It will be capped by a free public lecture Feb. 18 by civil rights and Black Lives Matter activist Shaun King.
The summit will likely triple the number of black students on campus for the weekend, which Cox hopes will provide cause for reflection. Conference presenters include scholars from different racial and personal backgrounds speaking about histories that are not necessarily their own. "So I think it's going to be a different experience for people to be taught these things from people they may not expect," Cox says.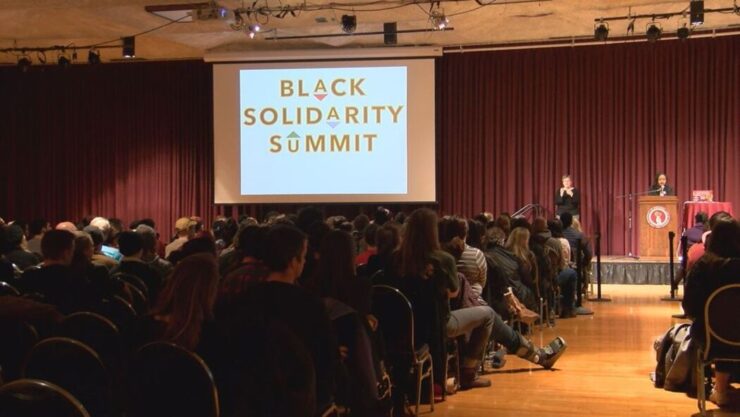 Shearer has raised more than $19,000 to support anniversary events through a #ride4blacksolidarity bike ride last summer, which paid homage to the black student union's epic 1974 retracing of a 1,900-bike trek from Fort Missoula to Missouri completed by the African-American 25th Infantry in 1897. He's proud the program has established its relevance across the state — a relevance he says has only increased as alt-right and white supremacist activity has resurged nationally.
To that point: Earlier this month, the University of North Carolina-Wilmington professor Mike Adams, who delivered a high-profile lecture Feb. 13 at UM's Dennison Theatre, tweeted, "The University of Montana should combine African American Studies and Gender Studies into one major called Resentment Studies." The night before Adams' lecture, Shearer had introduced black studies scholar Darlene Clark Hine's lecture in that same theater.
Hine spoke not about resentment, but about a forgotten instance of cooperation in the Jim Crow-era South, where the only black female doctor in South Carolina, Dr. Matilda Evans, worked to advance health care for blacks and whites alike.
"If we don't know each others' stories," Shearer says, "we'll never be able to talk to each other."