Missoula is about to have a hometown interest on unscripted television to heal the scars left by Krystal Nielson's performance on The Bachelor. Next Wednesday, March 21, Biga Pizza's Bob Marshall will compete on Food Network's Guy's Grocery Games.
Biga regulars will be familiar with Marshall's nontraditional pizza-topping combos and improvisational talent with seasonal ingredients. And Biga regulars are plentiful: The wall next to Biga's roaring oven is covered with certificates proclaiming the restaurant's many wins in the Independent's voter-selected Best Chef and Best Pizza categories.
This will be Marshall's first appearance on a national cooking show, though he isn't the first Montana chef to compete. A Great Falls restaurant owner appeared on an episode last year. Grocery Games' Guy Fieri has yet, however, to bring his flagship program, Diners, Drive-Ins and Dives, to Montana, one of just a handful of states lacking the honor.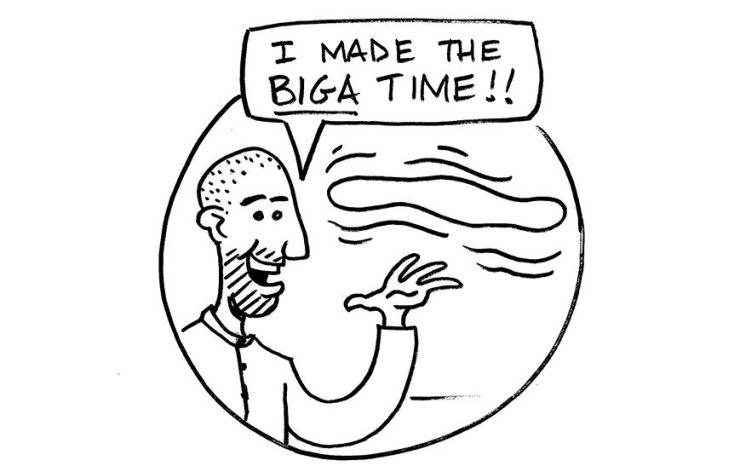 Guy's Grocery Games brings together four chefs in Fieri's Flavortown grocery store, where they're tasked with gathering groceries and making a dish within a half-hour. There's a twist: They can only use ingredients that fit within Guy's dictates, so an episode might allow contestants to work with only frozen foods, or only canned items, or only foods that are orange. After the first round, two chefs are eliminated and the remaining two compete for a cash prize, awarded by a panel of celebrity judges. So it's like Chopped, but in a store, with Fieri.
Marshall is embargoed from discussing the show until after it's aired. He did tell the Indy that he enjoys watching cooking shows himself, and has occasionally gotten ideas from them, like the hot honey he used on a recent special.
Here's what the show will say about what we'll be watching: "Pizza Play-Offs: Four pie-pros compete in two plus-sized rounds of mouth-watering pizzas. First, Guy Fieri challenges the chefs to make not one, but two pizzas using only what they can fit into an empty pizza box. Then, he doubles down again by asking them to make a sweet pizza and a savory one, both featuring a very special ingredient. The chef who has the best slice will go on to shop for a chance at $20,000."
The episode airs on Wed., Mar. 21, at 7 p.m. local time, and repeats later that same night.