Christmas is more than just a holiday; it's a season of joy, family, and, importantly, food. One of the cornerstones of Christmas celebrations is the dinner that brings everyone to the table. This is often the highlight of the day, and it takes planning and creativity to make it memorable. Whether you're considering cooking the entire meal yourself or opting for professional catering services, this blog post will guide you every step of the way. From budgeting to menu selection, we have you covered, ensuring you create a festive feast that will be the talk of the family for years to come.
Plan Ahead
The most important rule for hosting a successful Christmas dinner is to plan ahead. Early planning allows you to secure the best deals, whether you're buying ingredients or hiring a catering service. The more time you have, the more you can focus on the details, from picking the perfect recipes to finding the ideal table settings. Start by making a detailed to-do list, create a timeline for when things should be done, and write a comprehensive shopping list. This way, you can track your progress, ensuring you're not left with last-minute preparations that could put a damper on your festive mood. Planning ahead minimizes stress and maximizes enjoyment, both for you and your guests.
Set a Budget
Setting a budget is not just a practical step; it's essential for a well-executed Christmas dinner. Knowing how much you're willing to spend on food, drinks, and decorations sets the boundaries for your planning. A budget helps you narrow down your choices, ensuring you don't overspend while still aiming for quality. It's advisable to allocate funds for each aspect of the dinner, like ingredients, wines, and decorations. Moreover, always keep a little extra for unexpected expenses like additional guests or last-minute menu changes.
Guest List and Dietary Restrictions
A successful Christmas dinner isn't just about the food; it's also about the company. Knowing the size of your guest list informs your menu planning, seating arrangements, and quantity of food and drinks. A finalized guest list also allows you to consider important factors like dietary restrictions, food allergies, and specific preferences. In today's diverse world, you might have guests who are vegetarian, vegan, gluten-free, or have specific food allergies. Always confirm these details in advance so you can offer alternative dishes and make everyone feel included.
Choose the Menu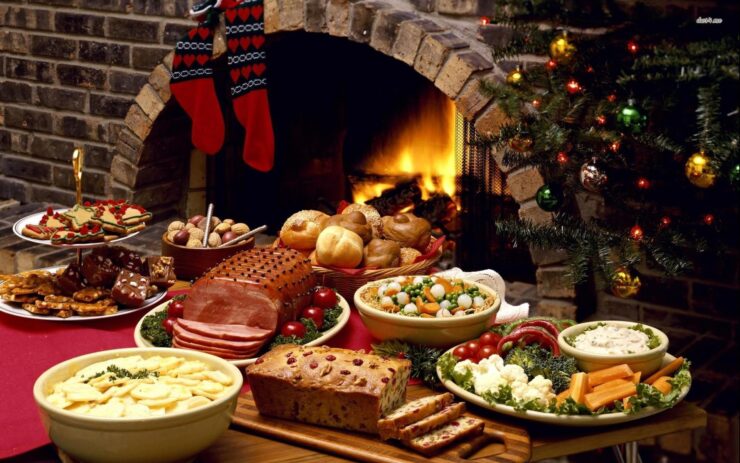 Choosing the menu for your Christmas dinner is often the most exciting part of the planning process, but it can also be the most challenging. The possibilities are endless—from traditional favorites like turkey and stuffing to creative additions that reflect your family's cultural or regional background. Consider starting with classic dishes that serve as the cornerstone of the meal, like a roast for the main course and pies for dessert. Then, add in a few unexpected items to surprise and delight your guests. For instance, if your family has Italian roots, why not add a pasta dish to the lineup? Or if you love seafood, a shellfish starter could add a luxurious touch. It's important to balance the menu not just in terms of flavors, but also cooking methods and times.
Catering Services vs. DIY
When it comes to actually preparing the food, you have two main options: hiring a catering service or doing it yourself. Each choice comes with its own set of pros and cons. Catering services such as Kama Delivery offer convenience; they handle the cooking, serving, and sometimes even the decoration and cleanup. This lets you enjoy the festivities without stress but comes with a heftier price tag. On the other hand, cooking yourself can be cost-effective but is time-consuming and could add stress. Consider your skill level in the kitchen, the complexity of your chosen menu, and the time you have available before making a decision. Some people even opt for a hybrid approach, catering certain complicated dishes while preparing others at home.
Decorations and Ambiance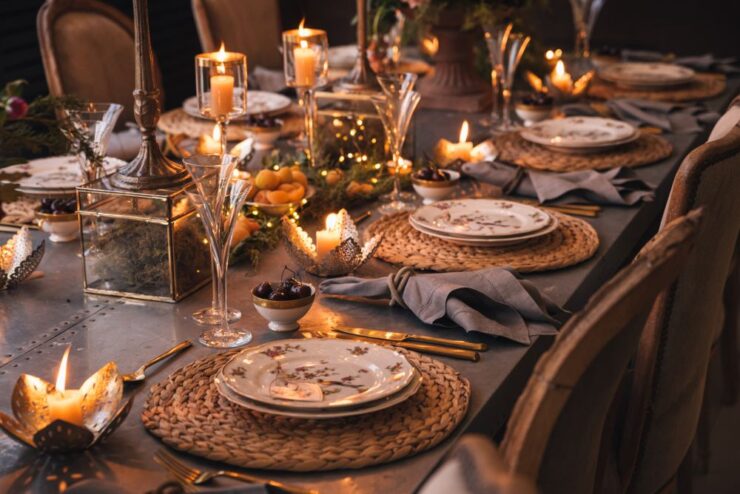 Creating a festive atmosphere goes hand in hand with the food for making your Christmas dinner truly memorable. Your decoration choices set the mood for the evening, engaging your guests even before the first course is served. But you don't need to go overboard; sometimes, less is more. Choose a color scheme that complements your tableware, and consider simple but effective decorations like candles, fairy lights, and natural elements like pine cones or holly. Tablecloths and runners can add a layer of sophistication, while personalized place cards add a thoughtful touch.
Food Presentation
The presentation of your food is the finishing touch that makes your Christmas dinner go from good to great. How you plate your dishes, the serving ware you use, and even the garnishes can make a big difference. Try to add color to your presentation by using herbs, vegetables, or edible flowers as garnishes. Use quality serving dishes and utensils that match the rest of your table setting. It might even be worthwhile to do a practice run of your most elaborate dishes to get the presentation just right.
Drink Selection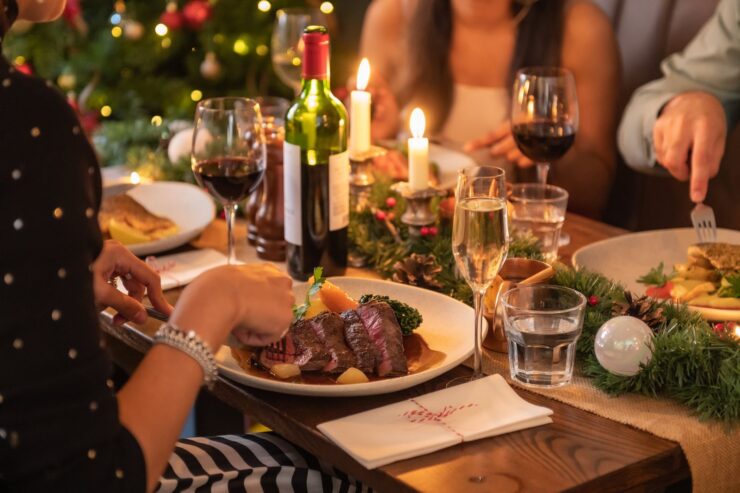 Selecting the right drinks for your Christmas dinner isn't just about complementing the food; it also enhances the overall dining experience. When it comes to alcoholic options, wines are often the go-to choice. White wines usually pair well with lighter dishes like fish and vegetables, while red wines are better suited for heavier dishes like red meat. If you're feeling adventurous, consider offering holiday-themed cocktails that add a fun and festive touch. But don't forget about non-alcoholic options. Beverages like sparkling water, juices, and non-alcoholic punches ensure that everyone has something to sip on, regardless of age or preference.
Timing and Coordination
Everything comes together with proper timing and coordination. This is where your early planning really pays off. Knowing how long each dish takes to prepare and in what order they should be cooked ensures a smooth flow in the kitchen. Create a cooking schedule, noting down what time each dish goes in and comes out of the oven. Also, consider dishes that can be made in advance to ease the last-minute rush. A well-timed dinner also means hot food and a well-orchestrated serving process, making the meal enjoyable for everyone.
Food Safety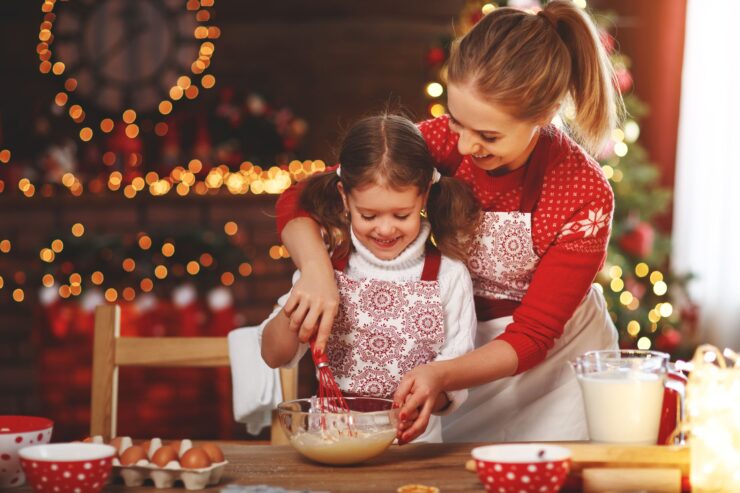 Last but not least, food safety is crucial, especially when you're serving a large group. Make sure you store your ingredients properly before cooking and handle them with clean hands and utensils. Follow recommended cooking temperatures to ensure all meats are fully cooked. When it comes to serving, keep hot foods hot and cold foods cold, using warming trays or ice as needed. After the meal, promptly store leftovers in the fridge to minimize the risk of foodborne illnesses.
Conclusion
Planning a Christmas dinner can be a lot of work, but with the right preparation and attention to detail, it's entirely possible to host a festive feast that delights your guests and lets you enjoy the celebration as well. From planning and budgeting to cooking and decorating, each step is an opportunity to infuse your own creativity and style, creating a Christmas dinner that's uniquely yours. So why wait? Start planning today and make this year's Christmas dinner a joyous occasion to remember.