Representatives of LimeBike, one of the largest dockless bike-share companies in the nation, were in Missoula last month to pitch their service.
San Mateo, California-based LimeBike operates in more than 30 U.S. markets. Like most bike-share operations, LimeBike's green-and-yellow bicycles are accessible for a small cost. Unlike many bike-share operations that place bike stations at centralized locations, LimeBikes can be picked up and left anywhere. If the company does launch in Missoula, it's likely that several hundred LimeBikes would show up on city streets.
Missoula has long entertained the idea of a city-wide bike-share program.
"[Missoula Bike Program Manager] Ben Weiss and I have been working in partnership to evaluate bike-share companies informally for several years," says Jordan Hess, Missoula City Council member and director of the ASUM Office of Transportation at the University of Montana. "There's a lot of unknowns still, but I think the main thing this has exposed is there's a lot of interest in doing some sort of bike-share system."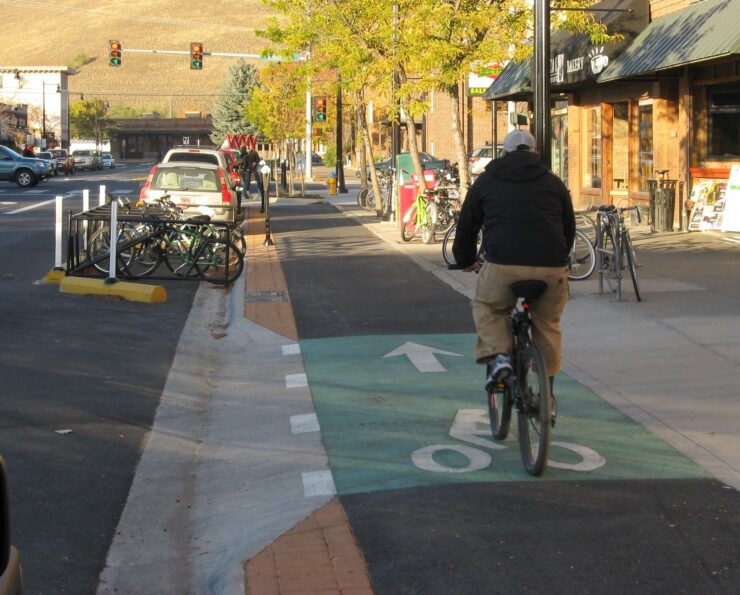 Two small-scale bike-share programs already operate in Missoula. In the early 2000s, UM helped pilot a bike-share for college campuses. Called Cruiser Co-op at the time, the program allowed students to check out bikes for days at at time.
Today, a fleet of 50 rebranded Yellow UBikes is parked by the Mansfield Library.
"It turns out libraries are really good at checking things out, and they're really good at finding people when they don't turn things back in," Hess says.
The UBikes can be checked out free for two days at a time with a Griz Card. Students can also check out up to four bikes at a time for family members or friends to use. Hess says the bikes are often used for orientation tours, or to show campus visitors around, and estimates that there are 500 Yellow UBike checkouts per year. "I think it was a really innovative program back in the early 2000s, and I think as bike shares and technologies changed, it's just been less utilized and less relevant."
Across town, at the Currents Aquatics Center in McCormick Park, Missoula Parks and Recreation operates its own free bike-share program. Single-speed Blue Bikes are available anytime during business hours. The program was grant-funded by the beverage company Dasani nearly a decade ago. The program's 20 bikes are available on a first-come, first-served basis. According to Parks and Rec, about half the bikes are used daily during the summer months.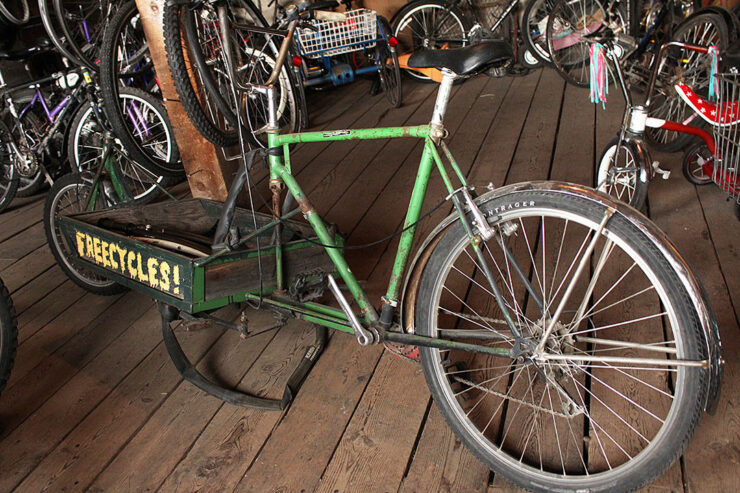 Both programs are limited in the number of bikes and in their ties to a single location for pick-up and return. Those issues would be addressed by a free-roaming bike-share fleet like LimeBike's.
But LimeBike wouldn't be Missoula's first free-range bike-share. The first iteration arrived two decades ago with a different set of green bikes. Bob Giordano, founder of Free Cycles, remembers getting the idea in class in graduate school.
"My professor mentioned he had been in Portland and there were free yellow bikes there," Giordano says. "I thought that sounded neat."
Giordano and his roommates collected about 300 donated bikes, welded plates to the frames to make them less appealing to thieves, turned them into single speeds and painted everything green. In 1996, Green Bikes launched.
For three years, Green Bikes were released annually during the Festival of Cycles at Bonner Park and collected at the beginning of winter. In 1998, the program's final year, 30 bikes were released and 25 were returned at the end of the season.
"We didn't experience bikes getting stolen, repainted and sold," Giordano says, adding that the remaining bikes straggled back in over the years. "Our success rate was pretty high."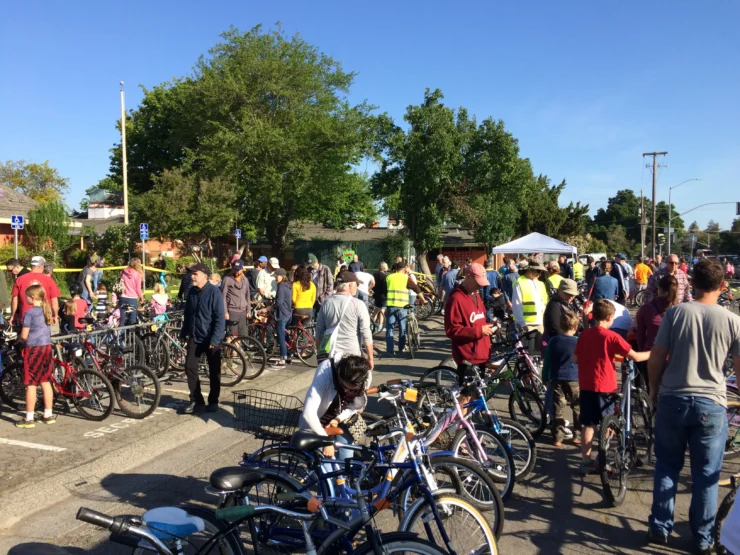 The challenge was finding enough volunteers to run around town and service bikes when they had mechanical issues or flats, and making sure the bicycles were in useful places. Green Bikes also struggled with quantity.
"We didn't have enough," Giordano says. "Fifty bikes was more like playing 'Where's Waldo' than 'this is a very viable transportation option.'"
Giordano says that when interest in the community bike shop that became Free Cycles began to grow, the Green Bikes were put away.
Free Cycles still offers dollar-a-day bike rentals, but as for a full-on community bike-share service, Giordano says, "We have always had that city bike-share idea on the back burner, on really low simmer."
Weiss says several other bike-share companies have expressed interest in Missoula after a Missoulian article about LimeBikes was published last month. "From the city's perspective, we're intrigued and interested, since there's no cost to us," Weiss says. But, "We're in no rush to make a bike-share happen."