Paris, the city of love, also bears the crown as the world's fashion capital. It's an enchanting city where fashion isn't just about appearance but a way of life, a rich tapestry woven through the city's history, culture, and people. Let's delve into some must-visit places in Paris that will leave any fashion aficionado completely awe-inspired.
Avenue Montaigne: The Heartbeat of Parisian Luxury
As you walk along the cobblestone streets of Avenue Montaigne, you'll feel as though you've stepped onto a grand, open-air runway. This prestigious avenue, with its stately Haussmannian buildings, hosts flagship stores for some of the world's most iconic luxury brands, making it a pilgrimage site for high-fashion devotees.
Chanel, Dior, Louis Vuitton, Givenchy – each boutique is a piece of fashion history, an elegant temple to the gods of couture. Stepping into the Chanel boutique is like entering Coco Chanel's mind, with each collection telling a unique story about her vision of elegance and sophistication. The Dior flagship store, with its opulent interiors and innovative displays, is a testament to the brand's continual evolution since its establishment in 1946.
Louis Vuitton's massive flagship store – the largest in the world – is more than just a shopping destination. It's a journey into the heart of the brand's heritage, where you can explore iconic designs, limited-edition pieces, and a vast array of custom-made goods. Givenchy, known for its exquisite haute couture and innovative streetwear, continues to shape fashion trends, inviting you to discover the magic of its avant-garde creations.
In addition to these famed maisons, there are also boutiques of designers like Céline, Valentino, Prada, and Fendi, making Avenue Montaigne a kaleidoscope of global luxury fashion.
Le Marais: A Blend of Past and Present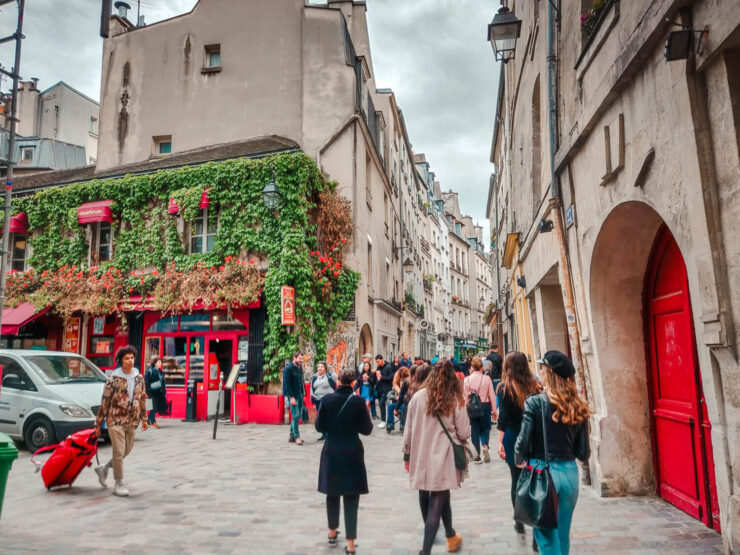 Le Marais is a melting pot of Parisian charm and cutting-edge fashion. Its narrow, winding streets are teeming with independent boutiques, vintage shops, and concept stores that offer a mix of contemporary and vintage trends. It's a place where centuries-old architecture serves as the backdrop for innovative design and fashion-forward thinking.
Vintage lovers will rejoice at Free'P'Star and Kiloshop, where you can unearth a treasure trove of retro clothing items, ranging from classic Levi's to vintage Chanel handbags. Concept stores like Merci and Fleux' curate a selection of emerging brands and indie designers, bringing together fashion, art, and lifestyle under one roof.
The neighborhood is also a hotbed for up-and-coming French designers. Brands like Sandro, Maje, and Zadig & Voltaire, which started in Le Marais, are now internationally recognized for their effortlessly chic aesthetic. This vibrant, eclectic neighborhood embodies the spirit of Parisian fashion – always evolving, never predictable. Falling in love with Le Marais is possible even before you visit. So if you want to book a stay as close to this beautiful location as possible you'll want to search CozyCozy for the best nearby accommodation.
Palais-Royal: A Courtyard of Couture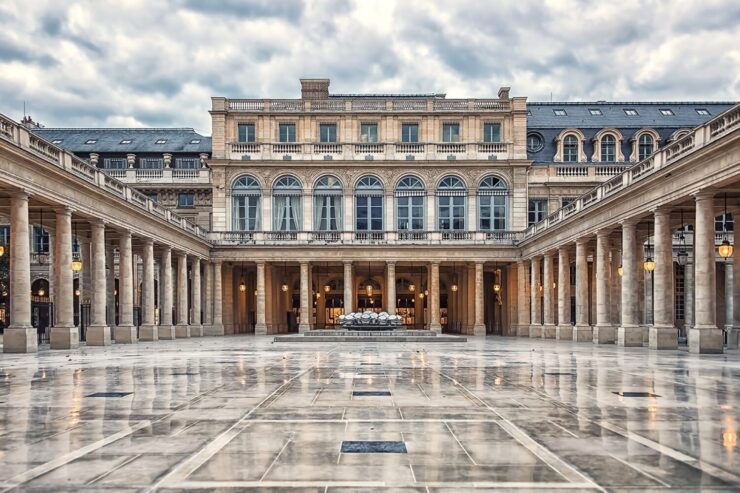 The Palais-Royal and its surrounding arcades are a haven of tranquillity amidst the hustle and bustle of the city. This historic monument houses exclusive designer boutiques, offering a shopping experience that combines architectural grandeur with cutting-edge mode.
Stroll through the iconic arcades and discover boutique stores like Rick Owens, Stella McCartney, and Acne Studios. Each boutique is an experience in itself, showcasing its design philosophy through carefully curated collections. Whether you're drawn to Rick Owens' avant-garde aesthetics, Stella McCartney's commitment to sustainable luxury, or Acne Studios' multidisciplinary approach to design, Palais-Royal offers an immersion into the world of these innovative designers.
Also, don't miss out on visiting vintage stores like Didier Ludot and Gabrielle Geppert, where you can find meticulously curated vintage haute couture pieces from Chanel, Yves Saint Laurent, and more.
Galeries Lafayette: A Visual Feast for Fashion Aficionados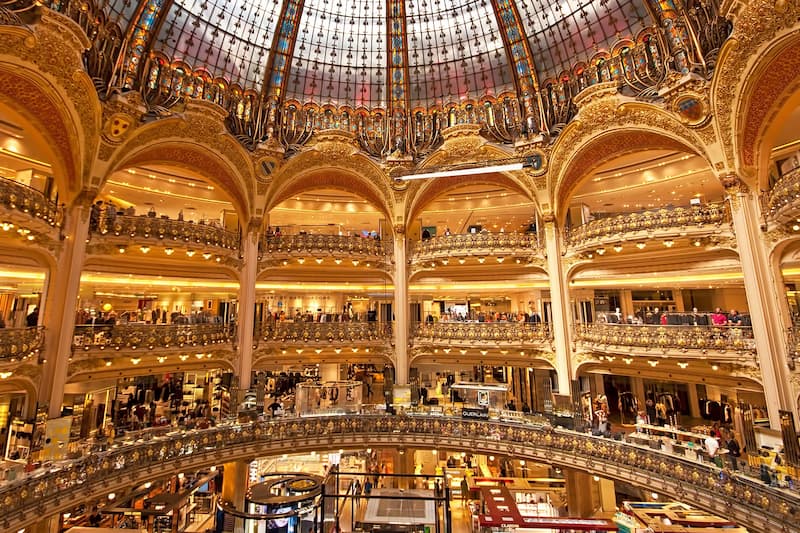 When you step into the iconic Galeries Lafayette on Boulevard Haussmann, your eyes will instantly be drawn to the stunning Art Nouveau glass dome, a visual prelude to the fashion feast that awaits. This century-old department store is a veritable mode mecca, housing an extensive selection of high-end fashion brands, including Gucci, Prada, and Saint Laurent.
Each floor is dedicated to a different facet of fashion, offering an expansive range of clothing, shoes, accessories, and beauty products. The personal shopping service, a team of multilingual mode experts, will help you navigate this massive store and curate looks based on your personal style.
The store isn't just about shopping – it's an immersive cultural experience. Check out the fashion shows held on a weekly basis, offering visitors a glimpse into the latest trends and collections. The rooftop terrace, with its panoramic views of the city, is the perfect place to unwind after a day of shopping.
Le Bon Marché: A Curated Shopping Experience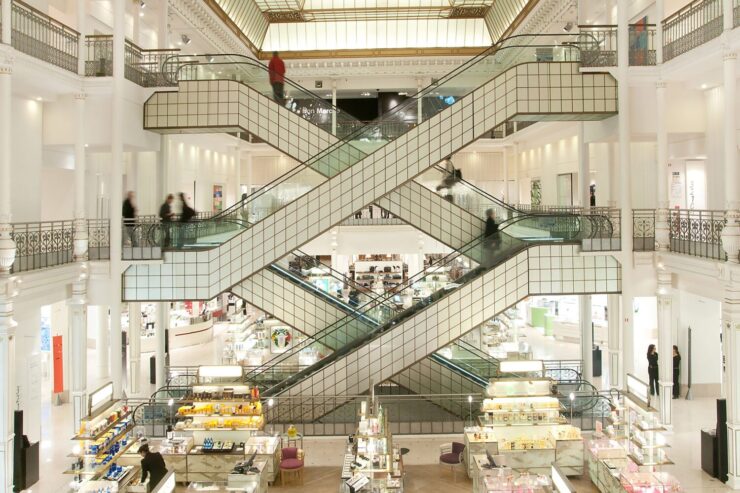 Established in 1852, Le Bon Marché is renowned as the world's first modern department store. This Left Bank institution offers a curated selection of fashion, accessories, beauty products, and home goods, all under one beautifully designed Art Deco roof.
From avant-garde fashion houses to emerging designers, the apparel section offers a balanced mix of established and up-and-coming brands. The beauty department is an oasis of indulgence, where you can explore a vast selection of luxury skincare, makeup, and fragrance brands.
Le Bon Marché's home goods department, "La Grande Epicerie," is a gastronomic delight, offering an array of gourmet foods, wines, and pastries from around the world. Shopping here is a holistic experience – one that caters not only to your mode sensibilities but also to your palate.
Saint-Germain-des-Prés: A Chic Parisian Neighborhood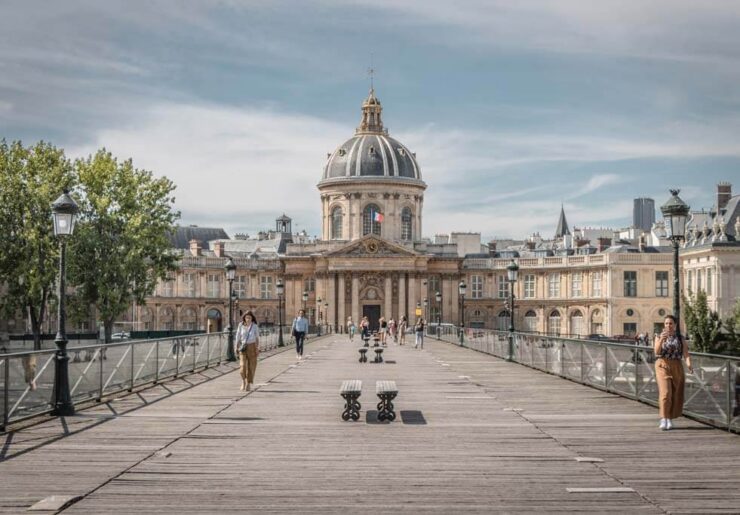 Saint-Germain-des-Prés exudes an understated elegance that's quintessentially Parisian. The neighborhood is home to upscale boutiques, including Sonia Rykiel, Isabel Marant, and Maje, each offering a distinct interpretation of Parisian chic.
Explore Sonia Rykiel's boutique, where her iconic striped knitwear and "démode," or "out of fashion," philosophy continue to shape the brand. Isabel Marant's boutique is a testament to effortless style, with collections that perfectly blend bohemian influences with Parisian sophistication. Maje, with its feminine silhouettes and intricate detailing, captures a unique blend of boldness and subtlety that defines the Parisian style.
Rue du Faubourg Saint-Honoré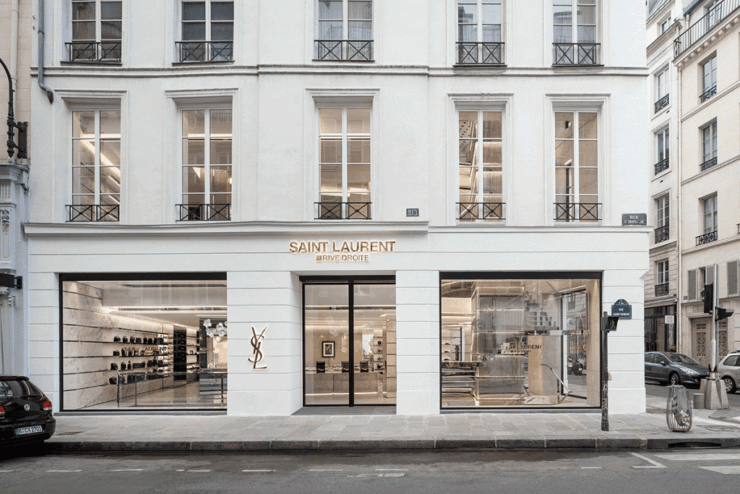 Rue du Faubourg Saint-Honoré is a vibrant fashion hub teeming with prestigious fashion houses and luxury boutiques. It's a place where history and high fashion coexist, offering a rich, multi-layered shopping experience.
A visit to Hermès on Rue du Faubourg Saint-Honoré is a must. This historic store, where the iconic Birkin and Kelly bags were born, continues to uphold its tradition of exceptional craftsmanship. Other highlights include Lanvin, one of the oldest French fashion houses, and Balenciaga, a brand synonymous with avant-garde design and innovative silhouettes.
Printemps: A Spring of Fashion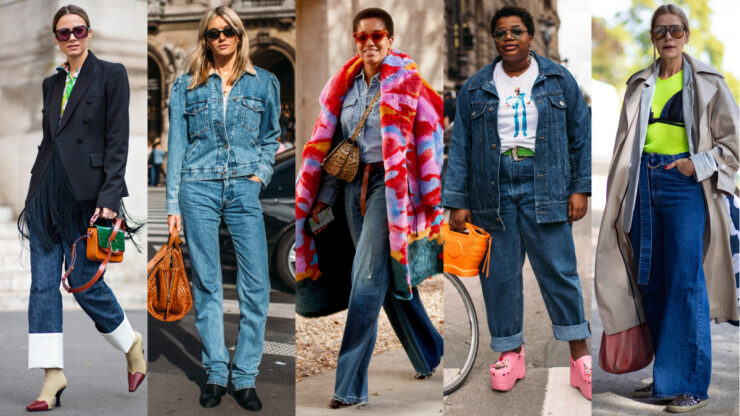 Printemps, meaning 'spring' in French, offers a refreshing shopping experience with a wide range of brands, from high-end luxury labels to affordable contemporary fashion. The beautiful Art Nouveau architecture, with its signature stained glass dome, adds a touch of glamour to your shopping journey.
Printemps' commitment to offering the best in fashion and beauty, its personalized services, and its magnificent rooftop views of Paris, make it a unique destination on your Parisian fashion tour.
Musée Yves Saint Laurent: An Homage to a Fashion Legend
No fashion journey in Paris would be complete without a visit to the Musée Yves Saint Laurent. This museum, housed in the designer's historic atelier, offers an intimate glimpse into his creative process. From his iconic Le Smoking tuxedo to the Mondrian shift dress, the museum showcases Saint Laurent's visionary creations that revolutionized women's mode.
By preserving Saint Laurent's studio exactly as he left it, the museum provides a rare insight into the designer's personal and creative universe. The changing exhibitions, focusing on various aspects of his career, shed light on his artistic genius, his influences, and his legacy.
Conclusion
Each destination on this style journey through Paris is unique, with its own story to tell. Whether you're a fashion novice or a seasoned style maven, these iconic locations offer a deeper understanding of the city's unparalleled influence on the fashion world. So put on your most stylish outfit, step into your favorite pair of shoes, and embark on this unforgettable tour of Paris.